Quick Move (also known as Fast Move, Fast Attack, and First Attack) is the standard attack, executed by tapping the opposing Pokémon. Pokémon in the Pokémon Go game can have only one of the two possible Quick Moves. Therefore, it's possible that two Pokémon of the same species may have different Quick Moves.
Quick Moves deals less damage than the Charge Moves. However, Quick Moves can be used much more often and generate energy which is essential for using Charge Moves. What is more, Quick Moves get the Same Type Attack Bonus (STAB), if the Pokémon using it is the same type as the move. In that case, Quick Move power will be multiplied by 1.25.
There are several key factors measuring Quick Move in the Pokémon Go game: Power, Energy, Cooldown Time and Damage per Second (DPS). It's important to note that Cooldown Time is the only factor which determines how often players can use quick moves.
All Pokémon Go Quick Moves by DPS
Want to check all Quick Moves available in the Pokémon Go game? Please find all Quick Moves with Type, Power, Energy, Cooldown Time and DPS next to them in the table below. If you want to check more details about a specific move, please click on it and you will be redirected to the specific Quick Move page.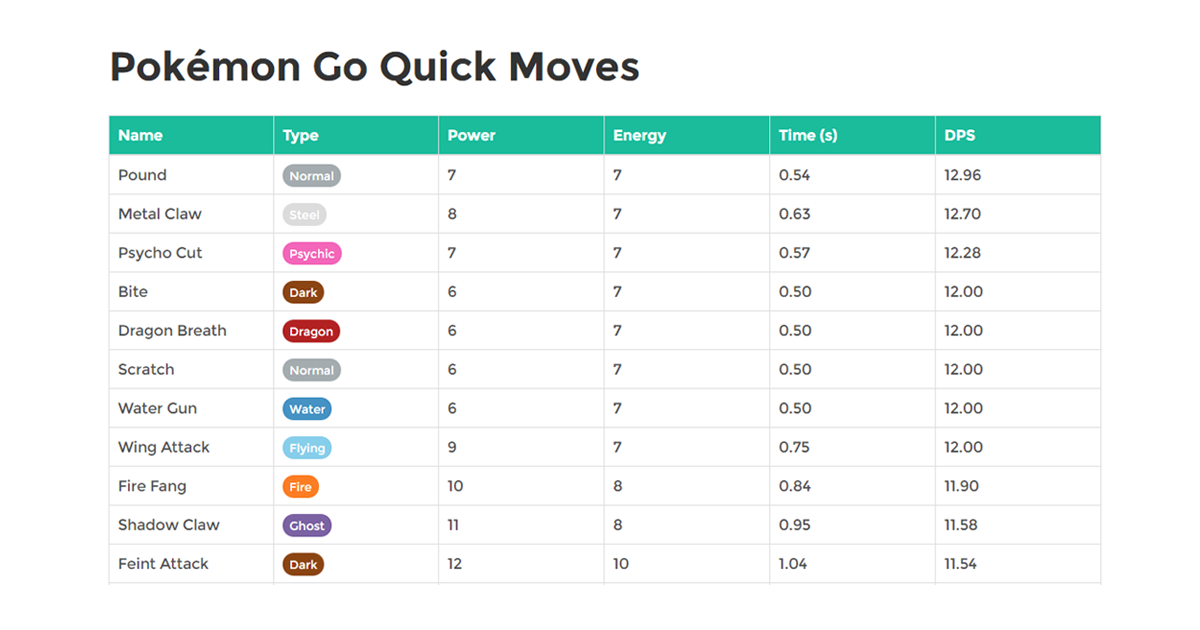 Do you have any questions or comments? Please leave them in the comments section below.
Comments