Charge Move (also known as Special Move, Special Attack, and Charge Attack) is the second or special attack, executed by holding down on your own Pokémon. All Charge Moves require specific amount of Energy (Stamina) which is generated using Quick Moves.
Charge Moves has way more Damage per Second (DPS) compared to Quick Moves. Therefore it's highly recommended to use them as often as possible. On the other hand, Charge Moves require Energy (Stamina) and it the main reason why charge moves cannot be rapidly used during the battles. Charge Move has the Same Type Attack Bonus (STAB). So if the Pokémon and the Charge Move is the same type, Charge Move Power will be multiplied by 1.25.
There are several key factors measuring Charge Move in the Pokémon Go game. It's Power, Energy, Cooldown Time and Damage per Second (DPS). It's important to note that Energy is negative. This means Energy is consumed not generated and Charge Moves must be 'charged' in advance in order to be used.
All Pokémon Go Charge Moves by DPS
Want to compare all Charge Moves available in the Pokémon Go game? Please find all of them with Type, Power, Energy (consumed), Cooldown Time (in seconds) and DPS (Damage per Second) next to them in the table below. If you want to check more details, please click on the exact move and you will be redirected to the specific Charge Move page.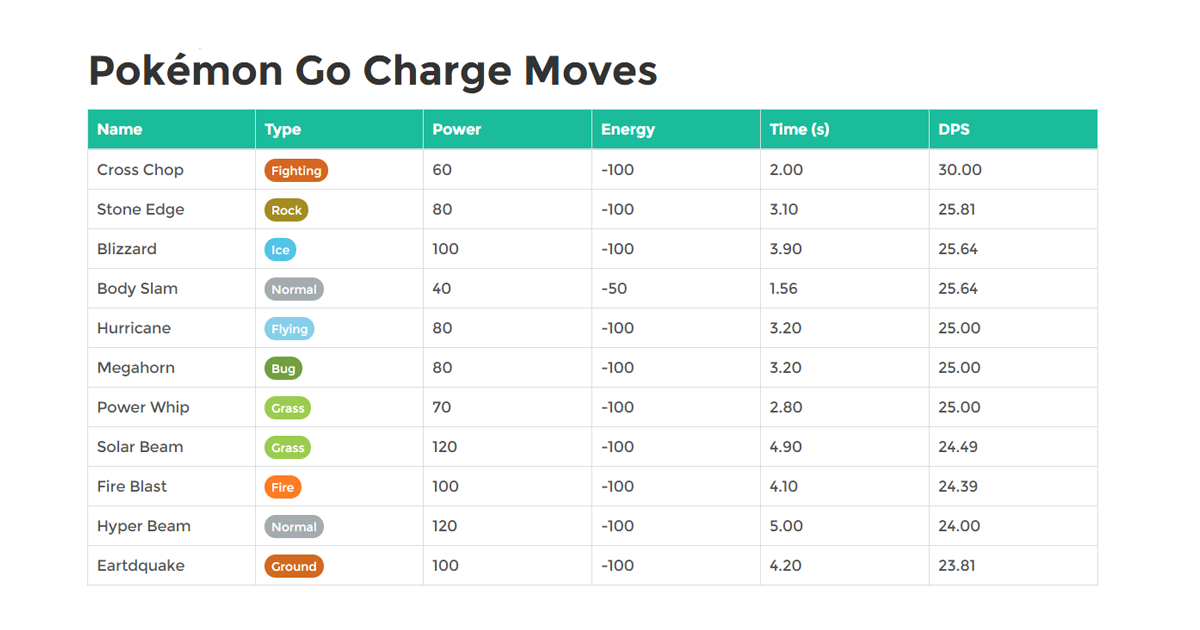 Blue Energy Bars
Charge Moves are different from Quick Moves as they are consuming Energy instead of generating it. In order words, Pokémon Go players have to save some Energy first if they want to use these special moves during the battle. This means Damage per Second (DPS) is not the only factor while searching for the most effective Special Move in the Pokémon Go game.

If you look at your Pokémon's Special Attacks, you will notice the blue Energy bar. Sometimes it's single, long bar, and sometimes it's split into several smaller parts. The full length of that bar always equals 100 Energy so a bar split into 4 parts means each part equals 25 Energy. Charge Moves can be used whenever one of the smaller bar parts (if it's split) or a full bar (if it's only one) are filled.
Frequently Asked Question
How to use Charge Moves (also known as Special Attacks)?
Holding down your own Pokémon.
Does each blue bar represent one use of the Charge Move?
Yes.
Which Charge Move is better: a move with one or multiple bars?
It depends on several factors. Players have to look at Power (Damage), Time (s) and Energy needed for the Charge Move.
How to fill up those blue energy bars?
You can do this by using Quick Moves.
Do you have other questions or comments? Please leave them in the comments section below.
Comments